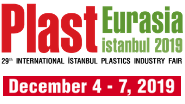 We here sincerely invite you and your company representatives to visit our booth in Plast Eurasia Istanbul 2019 from December 4 – 7th.
During this exhibition you will see our new products below in our company's booth:
- Retortable grade high barrier Alox PET film;
- Seamless holographic BOPP/PET film;
- 6mic ultra-thin metallized film;
- Chemically enhanced coating metallized film;
- PLA metallized film / Original PLA film;
- Twist,Matte,Brushed,Glitter PET film.
At the same time Dafu, which is the subsidiary company of Cailong, which show their featured products - PC/PMMA composite board which will be used in 5G mobile phone back board.
Here is the information of exhibition:
Exhibition Name: Plast Eurasia Istanbul 2019
Date : December 4 – 7th, 2019
Address: Tüyap Fair Convention and Congress Center, Istanbul.
Booth No. 10009E Hall 10
Foshan Cailong Metallic Packing Material Co., Ltd is one of the largest manufacturer of metalized film in China. It was also certified as one of the high and new technology enterprises at provincial level.
Cailong sustains huge investment in advanced equipment and technology R&D, and it has introduced the most advantageous production lines from German. With the top-notch equipment and technology, Cailong now has become the premier provider for metalized film in China . Its products are exported many countries and regions in the world.
Cailong has developed and manufacture new products including vacuum metalized PET film series, high transparent barrier AlOx metallized film, high-adhesion PET metallized film, Ultra-high barrier aluminum PET film,Chemical coating enhanced PET aluminum film ,vacuum metallized BOPP film, vacuum metalized PVC film , Holographic film , Copper metallized film and etc, that are widely used in the packaging of food, pharmaceuticals, automobiles, electronics, military industry and other products.
The company is qualified through the ISO900-2015 quality management system, and certified through the QS, FDA, REACH MSDSand Food Safety Standard.
Our company also do Independent research and development manufacturing new product polycarbonate (PC) and PC/PMMA composite membrane/new materials enterprises, we are the one of drafting units "polycarbonate film and sheet" national standard of China GB/T 35450-2017 standard. PC/PMMA composite membrane/plate material production line, annual production capacity of more than 18000 tons.Products include: optical PC, optical grade/PC/PMMA composite film, printing, color transparent PC, flame retardant PC PC, color green flame retardant PC, frosted PC, ultra-thin PC light slice and so on. It is widely used in the fields of optical module, mobile phone, automobile, sports equipment, medical equipment, aerospace, electronic appliances, optical lens, LED lighting, travel luggage and so on.